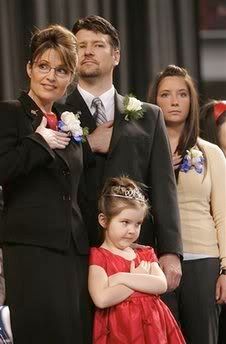 1) The woman who looks like she'd drive over you in her gas-guzzling SUV, then back up and crush your legs again as she rolled down her window and poured the warm remains of her triple-grande non-fat soy chai on your busted head before speeding off to pick up her kids from soccer practice?
2) The dead-eyed robot teenager who looks like she can hardly wait to move from the stultifying backwaters of Juneau to swinging D.C., where she plans to fuck, drink and vomit her way through every single room in the White House?
or
3) That little chick in the princess dress and tiara, whose stink-eyed expression of pure disgust clearly indicates that she knows what a complete crock of shit this all is?
Yep. Princess Cranky McStink-Eye gets my vote!**
**And by vote, I mean "wacky Livejournal vote" - not my real vote. That goes to Obama. :)
Seriously, which one of these women would you want as VP:
Current Location:

wee office

Current Music:

fans blowing